Today we tend to think of Confectioner as someone who sells or makes Chocolates and Sweets. This was not the case in the 1800s. In 1830s a confectioner would have been a shop keeper who made a wide range of goods in his back room – such as cakes, pastries, breads, boiled sweets, treats, chicory and ginger products, wine and event goods. Early sweets were known as "Spice" (a term that is still used in slang for sweets). Chocolate was a very expensive and bitter drink. Taffy (later toffee) was a home-made fudge like mixture or very hard (like bonfire toffee today). There were no big brands, very little advertising (as newspaper space was heavily taxed) and no mass production. Those confectioners that embraced the changing methods and markets brought about by the Industrial Revolution became the household names we know today.
Predominately it was entrepreneurs from the non-conformist religious communities that embraced confectionery as a business opportunity and drove its evolution into mass production. Confectionery, especially chocolate, was seen as wholesome, clean, food, which is why so many Quaker names are associated with the trade. Non-conformists were barred from universities and professions that required swearing an oath. The Church of England tithe system drove them off the land as it reduced farming profits and brought a conflict of principle.
Notable Dates
1756 – Joseph Fry opens his first shop in Bristol. 1787 – Fry's business starts using water power to grind and mix.
1822 – Joseph Fry & Sons Ltd established.
1823 – Coleman started grinding mustard near Norwich.
1825 – First use of word "Toffee" in Oxford English Dictionary.
c1825 – Sugar plantations (the slave trade) make sugar available in bulk at a price suitable for the masses.
1831 – Cadbury open first small factory in Birmingham.
1832 – Import Duty on cocoa greatly reduced allowing the cocoa market to start growing away from luxury.
1840 to 70s – The move from rural to urban economy drives the need for mass production. Railways come to move goods quickly, steam power to drive machines.
1841 – Huntley and Palmer's Biscuits partnership started near Reading.
1842 – George Bassett becomes wholesale confectioner in Sheffield.
1845 – First chocolate bar invented by Fry's.
1851 – Revolutionary chocolate mixing machines from the Continent displayed at The Great Exhibition.
1853 – Gladstone further reduced cocoa import duty to one penny a pound, making cocoa available to the masses.
1853 – George Cadbury in Birmingham receives a Royal Warrant – turning their business around from struggling to growth.
1855 – Newspaper stamp duty abolished making advertising affordable.
1860 – Food Adultery legislation to stop harmful items being used to bulk out food products.
1846 – Robert Peel repeals Corn Laws allowing flour based products to be produced on large scale – Huntley & Palmer's start to grow.
1868 – First patent for printing on tin – the start of selling prepackaged food and consumerism. Huntley & Palmers first put their biscuits into tins.
1869 – Joseph Rowntree becomes confectioner in York.
1870s – Cadbury produce first chocolate assortments.
1875 – Offset Lithography printing invented making fancy tins production in bulk possible.
1875 – Trade Mark legislation introduced.
1876 – First Register of Trade Marks started.
1881 – Rowntree's invent the Pastille.
1890 – Mackintosh's of Halifax established and introduce newly invented toffee – blending English Butterscotch style with caramel from America.
1890s – Electricity becomes common in factories.
George Bassett – Maynard Basset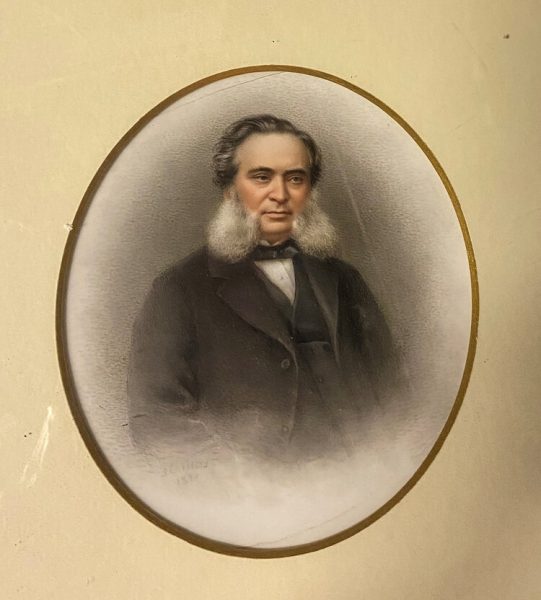 Today we tend to think of Confectioners as someone who sells or makes chocolates and sweets. This was not the case in the 1800s. In 1830s a confectioner would have been a shop keeper who made a wide range of goods in his back room – such as cakes, pastries, boiled sweets, wine and ginger products. Predominately it was entrepreneurs from the non-conformist religious communities that embraced confectionery as a business opportunity and drove its evolution into mass production.
After serving a seven-year apprentice as a confectioner, Bassett began his career as a shopkeeper and wholesaler of good including wine from 1842 – 1859, expanding into several shops.
George Bassett first moved into the manufacture of confectionary in 1859 with his first factory on Portland Street mainly making candied peel and lozenges. His business partner at the time was William Lodge. Bassett and Lodge seem to have known each other through the Wesleyan Methodist Church. William Lodge is also buried in Sheffield General Cemetery (Z77).
George Bassett was married twice. George's first marriage produced six daughters, his second marriage two sons. Both wives are buried with George in Sheffield General Cemetery (KK146). Bassett was a local politician and became Mayor of Sheffield, entertaining the former USA President Grant. As a publicity stunt Bassett once baked a Monster Cake for a client, which alas wasn't cooked properly and caused much debate in the newspapers!
But it was when Samuel Meggitt Johnson joined Basset & Co in that Bassett's business really began to grow into a successful and major manufacturing confectioner. Johnson's influence came from his apprenticeship at Bassett's (when he lived as part of the family), his partnership with George Bassett and his marriage to the Bassett's eldest daughter. In 1860's Johnson became a partner. In 1870 Johnson's wife (Bassett's daughter) died in childbirth.
George Bassett became seriously ill following a stroke in 1878 and had to give up business, handing over the control of Bassett's to Johnson. This was the period when Liquorice Allsorts were created and Bertie Bassett born. At some point between 1878 and 1888 Johnson establishes his own confectionery company called Don Confectionery Co. Ltd. This business move would appear to be a risk mitigation strategy regarding the future of Bassett's. In 1892 there was a serious fire at the factory for which Bassett's was inadequately insured. Johnson went on to become sole proprietor of Bassett's. Johnson's sons went on the run the company until Cadbury's took over.
Around 1886, a new recruit started at Don Confectionery – Joseph William Thornton, who previously was a shopkeeper. Thornton became an apprentice confectioner. Thornton went on to found his own confectionery empire – now Thorntons PLC.
Samuel Meggitt Johnson, with his wife Marianne, is buried in Ecclesall Cemetery in an impressively huge tomb. In Sheffield General Cemetery, Johnson's full brother Samuel William and his half brother Samuel Elijah Meggitt are buried in plot L171.
The Dixon, MacDonald & Pitchfork Families – Maxons Sweets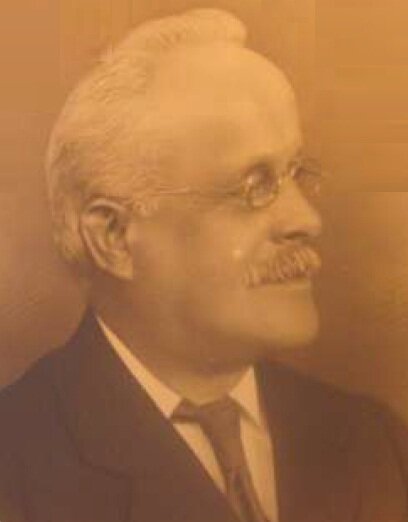 Tall glass jars in beautifully neat rows, filled with mouth-watering sweets of every colour, measured out in 'quarters' and sold in little paper bags. This is how sweets were sold before plastic packaging was invented and children saved their pocket money for this treat at the weekend. Maxons, a traditional Sheffield confectioner to this day, continues to make one of the largest ranges of traditional loose jar sweets in their factory in Meersbrook, Sheffield.
Maxons is in fact three family companies that joined together in the 1950's. The earliest part of the company, and its connection with Sheffield General Cemetery, is through Henry Dixon (1861-1949). He started his business in 1885 making sweets and toffees in Love Street, Sheffield, creating sweets many will remember from childhood: Dixon's Superior Mint Rock, Butter Scotch and Walnut Toffee. Henry Dixon Jr took over from his father Henry and continued to run the business into the middle of the 20th Century, still at Love Street. Dixon's Mint Rock became a favourite with Sheffielders, particularly steelworkers.
The MacDonald family began making sweets in 1927. Production took place in Bents Green, at 'Glengarry', 52 Muskoka Drive, Sheffield. Their popular fruit sweets were sold throughout Yorkshire. Maxons (Mac and sons) was famous for Yorkshire Mixture, Pear Drops, and Winter Mixture, all still made today by Maxons.
The third company was started by Ralph Pitchfork, born in 1913, the son of a Sheffield newsagent. Ralph left school in 1931, at a time when employment was scarce following the great depression. He managed to gain employment with one of his father's suppliers, and later began his own firm too, Ralph Pitchfork Ltd, a wholesale confectioner. Following the end of sweet rationing in 1953, sweet manufacturing really took off, and in 1958 Maxons and Ralph Pitchfork Ltd merged with Dixons Ltd. The last piece of the Maxons jigsaw was bringing in the registered confectionary product of 'Jesmona Old Fashioned Black Bullets'. The name comes from the Jesmond district of Newcastle, where it is said that the sweets had originally been made using moulds for musket-balls. This dark-brown peppermint-flavoured sweet was well-liked by miners and shipyard workers in the North East.
Henry Dixon is buried in Sheffield General Cemetery plot AA 115 in the non conformist section. Henry Dixon had four children Henry Jn, Alice, Frank and Emily. Frank died at only 15 and the 1911 census notes the family had lost one child. Henry Dixon Jr and four other member of the Dixon family are also buried in the plot including young Frank.
Maxons is now run by the 3rd generation of the Pitchfork family who continue to make their trademark sweets, some which were originally created over 125 years ago.
The Simpkin Family – Simpkins Sweets
Who remembers the excitement of getting a little icing sugar dusted sweet from pretty tin kept in the glove box on a long car journey to the seaside? A. L. Simpkin & Co. Ltd are one of Sheffield's most famous and iconic sweet makers. The firm was set up by Albert Leslie Simpkin in 1921 on his return from World War One during which he was awarded the Military Cross.
After being demobilised from the army in 1920 as a result of the effect of severe wounds, he became a retailer and wholesaler of sweets. His business idea was to manufacture high quality glucose sweets using, wherever possible, only natural flavours and colours. Albert Simpkin had been given liquid glucose to recover from his wounds in WWI. Finding it was not available in solid form, he decided to concentrate on making glucose sweets. Simpkins sweets all contained barley drops which was also proven to reduce travel sickness. Albert then developed the idea of a travel tin, an airtight container to package his sweets. The problem with this was that because of their high juice content the sweets easily went sticky. This was where the idea of adding the white sugar powder developed, thus an iconic British travel sweet brand was born.
In the early 1920s, he purchased a burnt out refrigeration factory in Hillsborough and built his own 40,000 square foot purpose built factory. He marketed his sweets through chemists and pharmacies, an astute move as the confectionary market was highly competitive. Within three years had established a thriving business employing 180 staff.
During the Second World War, when sweets were rationed, manufacturers were only allowed to sell in certain areas of England, Simpkins was only allowed to sell in north of Birmingham. Simpkins high-grade glucose sweets were produced for RAF air crew on high altitude missions. The company also supplied glucose sweets to the 1953 British Mount Everest expedition when Tenzing Norgay and Edmund Hillary reached the summit of Everest on 29 May 1953 so Simpkins sweets have reached the top of the world as well as all four corners. Legend has it that Prime Minister Margaret Thatcher may have used Simpkins' liquorice Nipits to help her with voice control during her time as prime Minister.
The sweets were also becoming an international brand, Simpkins travel sweets were among the first English confectionery sold in Japan. The fact that Simpkins sweets already contained natural ingredients enabled them to conform to the strict Japanese regulations on ingredients. Today the sweets are sold to over 40 countries throughout the world and Simpkins today produce over 2,000,000 sweets (35,000 tins) a day. The company are still based in Sheffield and still sell through chemists and pharmacies along with high end confectionary retailers.
Vintage Simpkins travel tins have become collectable in their own right. The artist who created the artwork for Simpkins 1950's Dilly Duckling Cough Pastilles tin (pictured) also illustrated Enid Blyton's classic children's books.
The connection to Sheffield General Cemetery is through Albert Leslie's father who was also called Albert, he is buried in plot number FF 68. Albert Simpkin is listed in the 1901 census as living with his wife Bertha. They went on to have four children including Albert Leslie who went on to found the Simpkin sweet brand. Members of the Simpkins family have always been local and are listed as having lived at Hunter House Road, Ranby Road and Steade Road, all not far from here. Albert Leslie was listed as being a 'Grocer's warehouse assistant' in the 1911 census. Our records show FF 68 (non conformist) was owned by Albert Simpkin of 32 Steade Road. The plot was bought for his 'true and loving' wife Bertha P Simpkin who 'entered into the home of Jesus, her saviour and friend, on January 10th, 1932 aged 67 years'. Albert Simpkin father of Albert Leslie died aged 91 in Firvale Infirmary 1 Jan 1961.