The 11th of March sees the anniversary of the Great Sheffield Flood of 1864 an event which still echoes down the years to Sheffield families whose relatives were involved or tragically lost their lives in the disaster. The flood swept through Bradfield, the Loxley Valley, Malin Bridge, Hillsborough, the Wicker and the City Centre destroying houses, workshops and lives.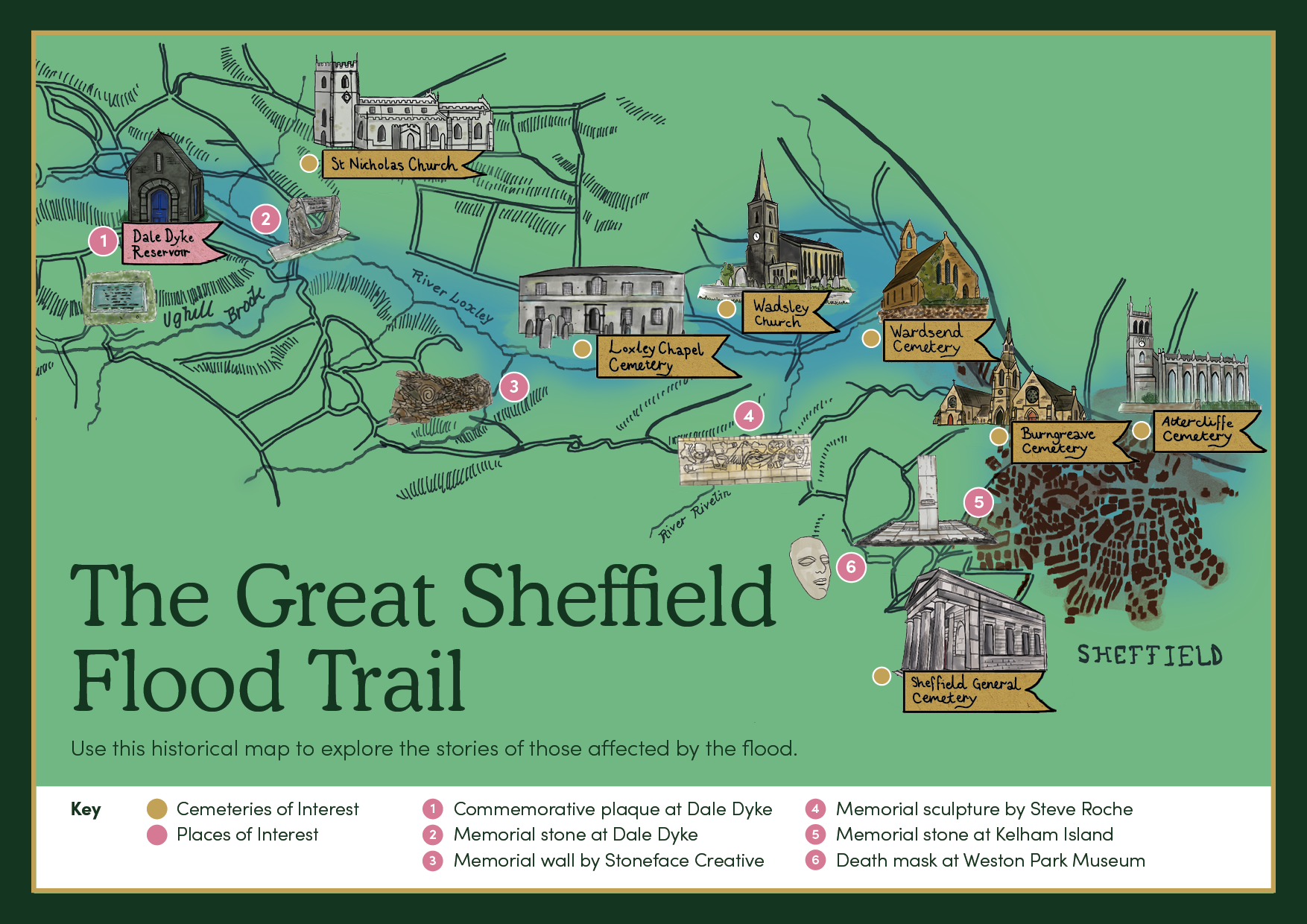 As we approach the 160th anniversary of The Great Sheffield Flood (2024), a collaborative project has connected some of the cemeteries in Sheffield where the victims of the flood are interred. The Great Sheffield Flood Trail is an audio, walking trail that will take you on a journey from the origin of the flood at Dale Dyke Reservoir, travelling down the valley to seven cemeteries where you will hear some of the stories of those affected both directly and indirectly by the flood.
This trail can be followed in a linear way from Dale Dyke Reservoir through to Loxley, Wadsley, Wardsend, Burngreave, Attercliffe and finishing in Sheffield General Cemetery. Or you can visit each site on separate occasions.
Where possible, the trail attempts to note where you can walk, take public transport or drive to access the stops. Unfortunately, a lot of the trail is not accessible to wheelchair users due to uneven paths. However, some of the places of interest are in more pedestrianised areas.
If you were to walk the whole trail in one day it would be 25km and take around 5 and a half hours, so perhaps divide it up unless you are a keen trail runner or walker!
Please note if you are accessing the trail via a website, we recommend you download the izi.travel app to receive a better experience. You can do this on any smart phone by visiting the App store and typing in izi.travel and clicking download.
You can also pick up a Great Sheffield Flood Trail postcard at various locations around the city from Friday 10th March or pop into the Sheffield General Cemetery Trust office (Cemetery Avenue, S11 8NT) every Friday 10am – 1pm.
Find out more…
Follow the cemeteries on social media or check out their websites for information about bookable tours, talks or information via newsletters.
Karen Lightowler has done significant research into The Great Sheffield Flood since 2001, you can use this email here to request to subscribe to her newsletter: [email protected]
Malcolm Nunn, Senior Archivist at Bradfield Parish Council Archives often hosts walks on the anniversary weekend of the flood. You can usually find information about these in leaflets like Festival of the Outdoors.
Thank you to National Lottery Players for making this project possible.
https://www.heritagefund.org.uk