William Jumbo
Metal Worker. Buried in Plot GG 2 Nonconformist.
William Jumbo was a man living on the Wicker in the mid-1800s who was pronounced as coming from 'Africa'. He died of apoplexy which was the name given to different forms of internal bleeding, likely in William's case to be a stroke. William was buried in the Cemetery in September 1850. William might have been one of the thousands of Black people living in Victorian England. Many Black people have been identified as living in Britain throughout its history. During the eighteenth century and earlier there is evidence of Black people living in a varied range of experiences, means and professions from students who came for study, those with a private income who came for business or leisure, sailors, farmers, merchants, innkeepers, actors, and doctors to servants, to name but a few. Many people were brought here enslaved; and some managed to liberate themselves here.
During the Victorian period more people came to Britain from many countries in Africa and America and the Caribbean seeking refuge from enslavement, to settle and to study or to find work. They joined the existing generations of Black British people. Many were part of a colonial workforce, brought to England in the navy, army, and other industries. Historians such as Professor David Olusoga, Professor Olivette Otele and Dr Miranda Kauffman alongside others and organizations such as The Black Cultural Archives have been instrumental in reconstructing the lives and experiences of Black British people from thousands of years ago onward.
It is an important look into this hidden history and think about what William's experiences might have been. William, living on the Wicker, would have been adjacent to a lot of workshops and sites of industry. His neighbours were cutlers, glaziers and other metal workers. It is very likely that William was employed in one of these trades. William may have been born in Liberia as there is a record of a William Jambo who was a '20-year-old native of Cape Palmas in Liberia' baptized in Liverpool in 1808. There are also quite a few instances of people with the surname "Jumbo" or "Jambo" in the British Navy during this period. There is one William Jambo from Sierra Leone who was born in 1782 and named as working in the Navy in the 1830s and another William Jumbo in the Navy, born in West Africa in 1834. Either of these could be our William, ending up in Sheffield. The name 'Jumbo' might connect William to the West Coast of Africa, other people with the surname 'Jumbo' are recorded on passenger ships coming from that region, many from Liberia and Nigeria. It is likely that William Jumbo was not his real name but one imposed upon him by the British. However, these glimpses only provide supposition into William's possible experiences and we hope further research might provide more clues.
Samuel Morgan Smith
Actor
The researchers here at Sheffield General Cemetery have been doing work to uncover the stories of the more unknown and untold lives of people buried on the site. This has included aiming to uncover a histories of people who were Black, Asian and Minority Ethnic and including Refugees and Asylum Seekers who lived and worked in Sheffield. These histories are very important to tell and the NHLF project which is ongoing at the Cemetery is committed to opening up the heritage of the site, giving all people a stake in the heritage and equally weighting the importance of all the stories and heritage that can be found there. All these stories give insight into important facets of Sheffield's history and global history, including knowledge of Sheffield's role in British colonialism and industrial past. To mark the start of Black History Month 2020, read Samuel's story. We'll be sharing more stories over the next 4 weeks.
Samuel Morgan Smith – I4 611 Anglican
Samuel Smith was born on 25 March 1833 in Philadelphia. After training in Boston and New York he came to England with his wife, Mary Eliza Taylor, and son where he became the actor/manager of a small theatre in Gravesend. He travelled to Britain because as a Black man he was excluded from appearing in many theatres in America and had probably heard of the success of Ira Aldridge, another Black actor, in Hull. He was a famous Black Tragedian and played several Shakespearean and non-Shakespearean roles. Despite little financial success he was hailed as a great triumph. After a successful career touring all over England, Scotland and Wales, by 1882 he was living in retirement in Sheffield with his second wife, Harriet, his first wife having died after only eighteen months in England. By then the family was extremely poor, their only income 8s a week earned by his son. By 1882 the family were fighting against starvation and reliant on help from the Order of Freemasons to which Samuel belonged. Samuel died in March 1882 of pneumonia at the age of 49.
The image you see above show Samuel's certificate of US Citizenship.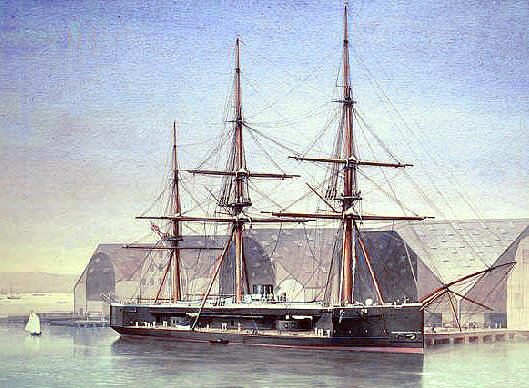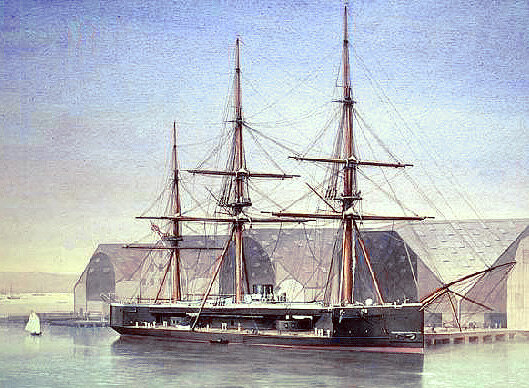 Emma May
Emma May died aged 48 in 1895, and is buried in plot W2 55 in the Anglican section. There is no stone and no loving monumental inscription because this is a public, or common, grave. Emma May was a widow and her address is given as 192 Hanover Street.
192 Hanover Street was also the address of William Watson, an anvil maker and his two children, Elsie, 11, and Charles 7. Emma May is described as the housekeeper in the 1891 census. Also in the house are William May 23, a printer compositor, and Frederick May, 21 a wine merchant's porter. They are both described as 'lodgers'. All the Mays were born in Torquay, Devon. Emma, in a public grave, might not have been picked up by the research team, except for the fact that a descendant enquired about her in 2006, surprised that she should have died so far from her roots.
Emma, maiden name Barnes, had married William Piper May, an Ordinary Seaman in the Royal Navy, in 1864 in Newton Abbot, when he was 23 and Emma was 17. Their eldest son William was born four years later, and their second son Frederick in 1870, but William was lost at sea on 7th September 1870 when the ship on which he was serving, the HMS Captain, capsized in a heavy squall, and went down in three minutes.
The ship, of a new design, was on her fourth trial voyage, travelling in company with ten other ships. According to the Hastings and St Leonards Observer 17 Sept 1870, not a single officer survived the disaster. At least 473 men died. Captain Cole, the designer, also died. At the official inquiry, some of the 18 surviving crew members suggested that 'iron masts and the heavy armoured turret, with its six 25 tonne guns, rendered the ship top heavy.' The official verdict found that ' the ship had been capsized by the pressure of sail, assisted by the heave of the sea, but that such sail would not have been sufficient to endanger a vessel endowed with the proper amount of stability. The Court further found that 'there had been great departure from the original designs, whereby the draught water had been increased two feet, and her freeboard diminished to a corresponding extent'. (Hampshire Telegraph 10th September 1904). It was a Portsmouth ship and in one street alone thirty wives were widowed by the disaster. The loss of the HMS Captain attracted nationwide sympathy and a fund set up for the relief of the families of those drowned.
The tragedy left Emma alone at 23, with a small naval pension, and two tiny children to support. The 1871 census shows her still in Torquay and her occupation is listed as 'milliner'. The 1881 census shows that both William,13, and Frederick,11, are boarders at the Royal Patriotic Asylum for Boys, Wandsworth Common. The Royal Patriotic Fund was inaugurated by Queen Victoria in 1854 during the Crimean War to collect donations on behalf of widows and orphans od soldiers, sailors and marines' that had died during or as a result of the hostilities. Part of the money raised was used to establish the Royal Victoria Patriotic Asylum for Boys and a sister establishment for girls. However in 1881 it was decided to close the Asylum for Boys on financial grounds. The children in the school were found places in other institutions, or sent to carers with an allowance. It is not known what happened next to William and Frederick, or how and why the family came to Sheffield. Was Emma impelled to move far away from all sea faring associations? Or did she and her younger son accompany William, who had found an employment opportunity? Emma never remarried and it would seem, devoted her relatively short life to her sons' welfare. 1901, William, still a printer and compositor, was married with a 2 year old son, William, and a William May died in Sheffield in 1941. It is not known what happened to Frederick, but a Frederick May died in Plymouth in 1958.
William Oliver
William Oliver is not buried in the cemetery, but his death, in the airship R 38, on August 24, 1921, was recorded on the headstone of plot B2 62 (Anglican) .
The R 38 was an early prototype of airship, the most famous of which was the R101. It was based at Howden Aerodrome in Yorkshire and, when the tragedy happened, was on a test flight before being flown to America. Among the 51 crew on board were a number of Americans. As it flew over Hull just before 6 o'clock on Wednesday 24th August 1921, two explosions shook the town, and at first the R38 seemed to dive straight towards the crowds in the streets. Fortunately the commander managed to divert the burning airship away from the buildings , and it fell into the Humber in two pieces, part of it on a sandbank. There were 5 survivors who escaped by parachute, three bodies were recovered and 43 people were missing.
William Oliver was among the missing. His duties lay in the 'petrol department'. He had joined the Royal Flying Corps (later the RAF) in 1915 and had served in France during the First World War, achieving the rank of Leading Aircraftman. After the war he elected to stay in the RAF and was appointed to work on the R38. He and his parents and eight siblings grew up at 32 Steade Road but William lived at 160 Shirebrook Road. He was 29 years old and left a wife and three children.
The above is reprinted from an article by Joan Flett, originally published in Undertakings, the SGCT newsletter.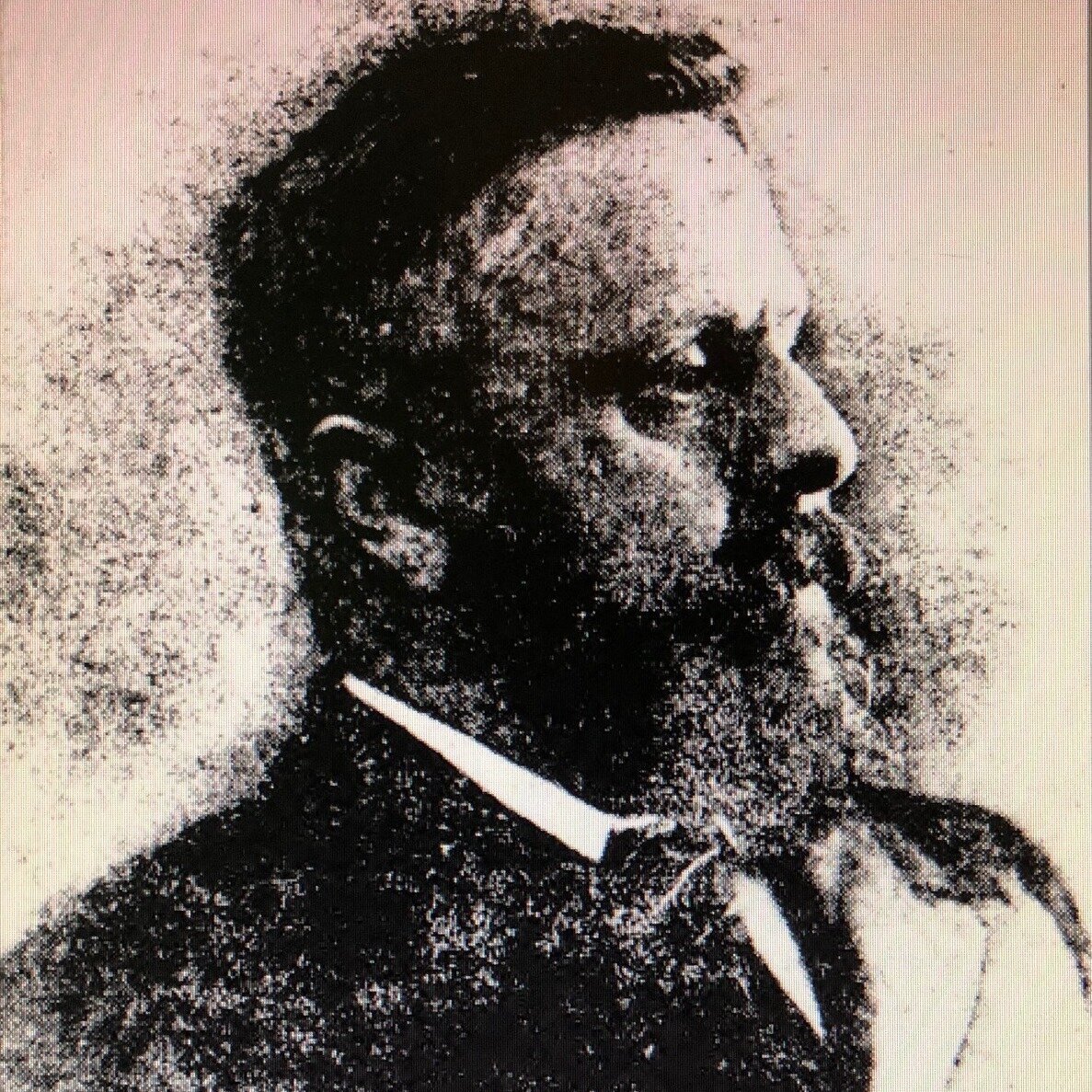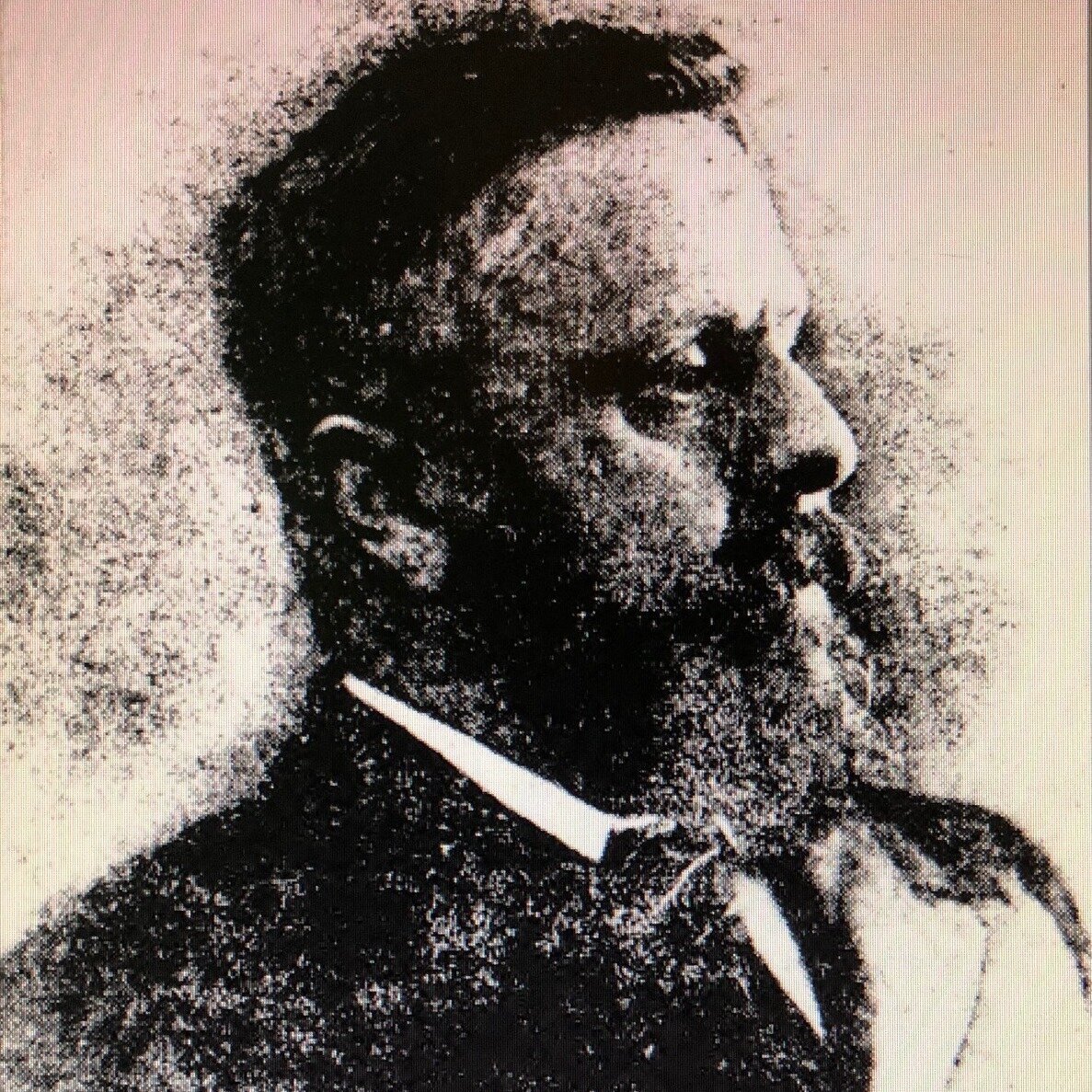 Joshua Dyson
With no television, cinema, internet or smartphones, what family entertainment was available in the late nineteenth century? Part of the answer to that was provided by Joshua Dyson, born in Glossop, Derbyshire in 1851. At a time when entertainment could not always be relied upon to be family friendly, he devised a multi-layered attraction within the price reach of the middling classes, which was fun, educational and provided a modest spectacle.
He began life as a pork butcher following in his father's footsteps, and married young, living with his wife Elizabeth in Sheffield. In 1881 they were living on Cemetery Road but a few years later Joshua took a decision which was to change their lives forever. He created a travelling show, " Dyson's Gypsy Choir and Dioramas" and did not look back. Since the choir and instrumentalists were all well rehearsed, the lanternist skilled, the pictures spectacular and his narration dramatic, he received good reviews throughout his career. Audiences enjoyed the variety of the programme,and the drama of the virtual tours of places they might never visit but could be amazed by. Sometimes his show became an informal advertisement ; members of the audience might in fact be inspired to visit for example the Peak District, to enjoy in reality what they had seen on the screen.
It is not surprising that Joshua died at the relatively early age of 59; the touring, the responsibility for the performers and equipment and multiple programmes, and the nightly personal performances, must have taken a toll. But by the time Joshua died in 1910 the days of the dioramas were numbered. Waiting in the wings were the silent films, with the cinema poised to take the crown for mass popular appeal.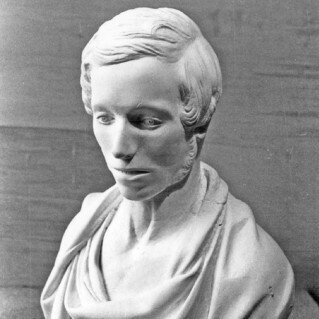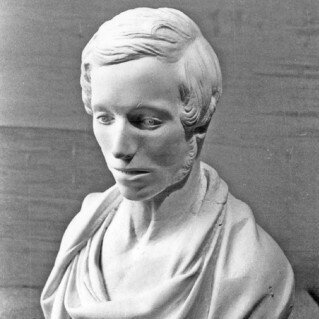 Samuel Holberry
The Chartist movement demanded the vote for the working man. The 1832 Reform Act had been a great disappointment, giving the vote only to men who owned property – We are still a long way from female suffrage at this time!
The Chartists organised themselves and sent petitions – or charters – to the government signed by hundreds of thousands of people but they were ignored. The movement split into those advocating violence and those who wanted to effect change by more peaceful means.
Samuel Holberry was one of the leaders of the Chartist movement in Sheffield. They met regularly, holding large meetings – which frightened the authorities – and began to demand loudly that they deserved the vote and a secret ballot. In January 1840 Samuel Holberry was dragged from his bed in Eyre Lane and arrested. He was accused of organising a plot to take over the Town Hall with violence. Several of his associates were also arrested, some allegedly in the process of hiding weapons. They had been betrayed by a police informer.
At the trial, where Holberry was not allowed to offer any defence, he was found guilty and sentenced to four years in Northallerton House of Correction. There he was illegally made to work a treadmill and his health deteriorated. He was transferred to York Castle but he was already very ill. He died of consumption in June 1842.
The Chartists organised the funeral. Sheffield came to a standstill as shops were shut, and between 20,000 and 50,000 people lined the streets to see the funeral party go by. Contemporary newspaper accounts report people hanging from the trees to get a better look. The procession travelled from Attercliffe to the Cemetery. The cortege was led by a band of musicians playing hymns and the coffin was festooned with a large black banner, on one side of which read 'Thou shalt do no murder' and on the other 'Vengeance is mine, and I will repay it, saith the Lord.' This martyr's funeral helped fix Holberry in the minds of Sheffield people as someone who fought for the rights of the ordinary man. He was seen as a hero at the time, and his legend endures with local landmarks and streets being named in his honour.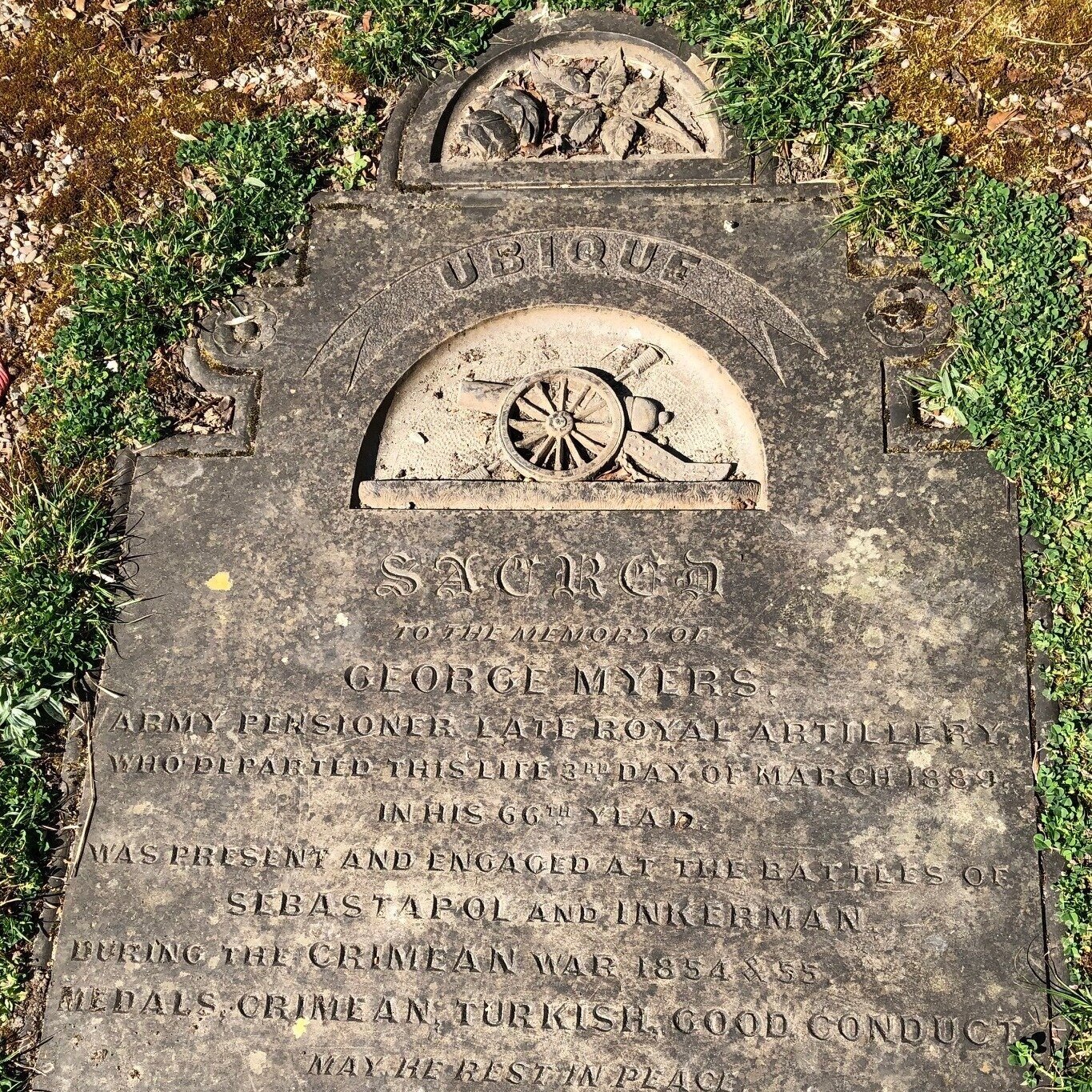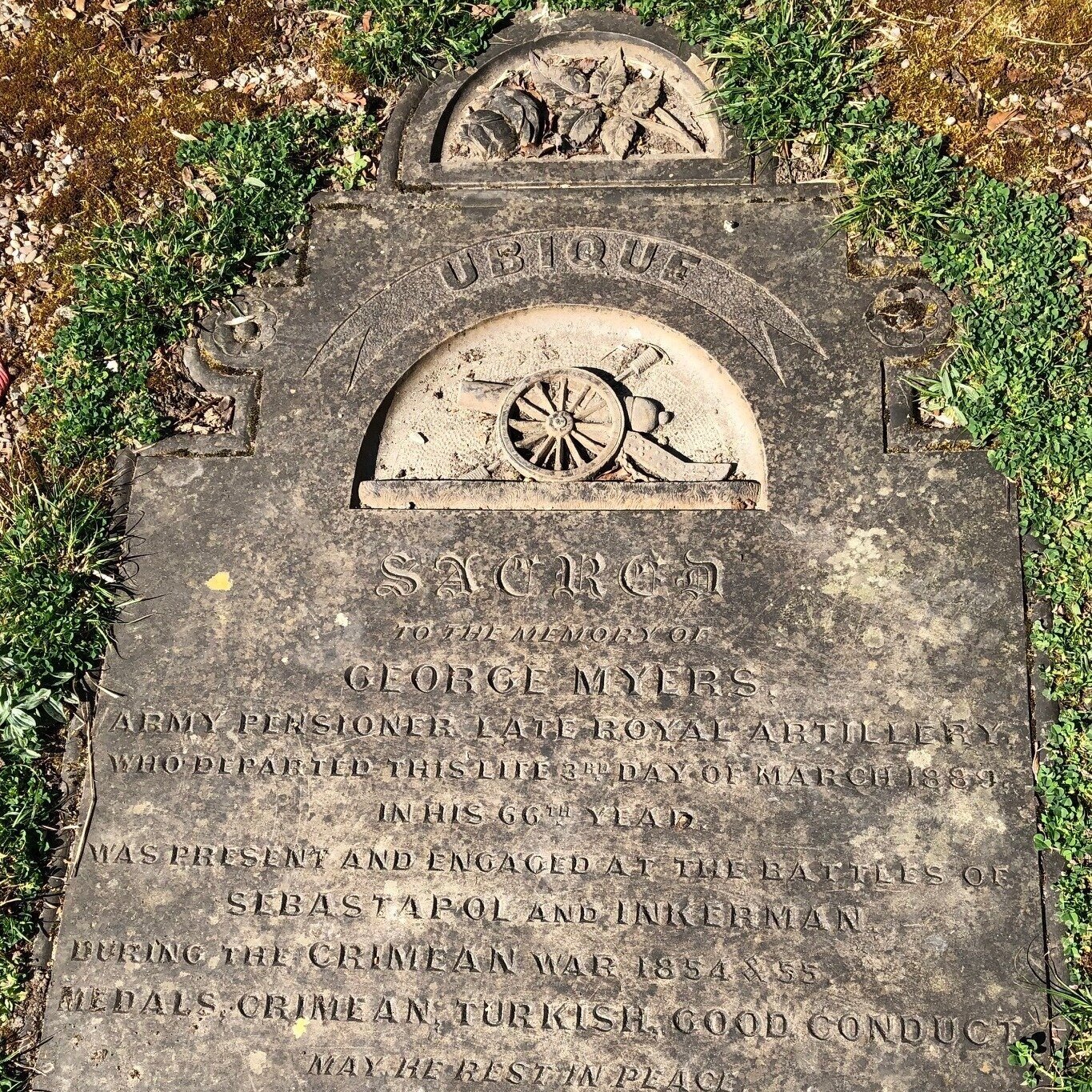 George Myers
George Myer's stone, moved by the council in the 1970s, is now lying flat on top of the catacombs, and is distinguished by a relief sculpture of a cannon. He died in 1899 having served with the Royal Artillery. A tailor by trade, George was engaged in the battles of Sevastopol and Inkerman and gained three medals. One of the letters he wrote to his wife while he was serving in the Crimea – address: 'Camp before Sebastopol' – was published in the Sheffield Daily Telegraph 13 September 1855 less than three weeks after he wrote it, demonstrating the speed of communications. It was not just that newspapers had their correspondents on the front line, but ordinary soldiers could send news themselves. George plays down the horrors of battle although he briefly describes a shocking accident when one of the soldiers accidentally exploded a Russian shell and refers to a 'dreadful engagement on the 15th' but adds 'most likely you will see it in the papers'. The letter accompanies a souvenir: 'With this I forward to you the beads taken from the neck of a dead Russian soldier. Betsey' (his 7 year old daughter) ' must wear them with great care: I value them much, from the peculiar circumstances under which they came into my possession.' What these were is not explained.
He finishes the letter, written 24th August , with the words:
'We are expecting a dreadful engagement every hour, for this afternoon all the troops got under arms, and marched down to the trenches; and we are expecting nothing else but to storm the place. I expect it will be a hot gale, but it will be a good gale when it is over; for there is not a man in the Crimea who is not heartily sick of it, and would volunteer in the storming party so as to get it over.'
The inscription on his tombstone ends with the words 'Erected by his surviving sons and daughters as a mark of respect and esteem.'
James Barber
Obituaries were a staple of the Sheffield newspapers in the second half of the 19th century. Every local man who had achieved status through his work, his church or in public life could be sure of a detailed if sometimes plodding obituary, with his name prominently displayed as the title of the piece. James Barber, the 'Sheffield Sportsman' of the title, was an exception. What is described is his interest in horse racing, and that is celebrated with the fervour of a writer who, one imagines, was himself an enthusiast.
The origins of James Barber are unclear. The obituary tells us that he was 'the son of a cutlery manufacturer who for many years carried on business in Scotland Street.' James was born in 1815; there is one Barber with an address in Scotland Street in an 1817 Sheffield Directory – Edward Barber, penknife cutler. By 1828 Edward is on South St, Moor where he remains until some point after 1834. In 1838 the business at this address is 'Barber and Brookes (late Edward Barber)' and a Frederick William Barber is involved – altho he too disappears in 1841. But James, if he was related to this family, left Sheffield before that – certainly before 1836. As the obituary, reprinted here shows, he lived life to the full. He also married, and had one daughter and one grandson, but there were no Barbers at his funeral and he is the only person buried in the grave.
Remarkable Career of a Sheffield Sportsman.
Sheffield Telegraph 20. 4. 1885
'Death has removed one who for years figured prominently in all sporting circles. Mr James Barber was best known in Sheffield, of which town he was a native. His career was a most remarkable one. Born in the early part of the present century, he was the son of a cutlery manufacturer who for many years carried on business in Scotland Street when that thoroughfare was of a very different character from what it is now. Early in life Mr James Barber acquired a taste for sports of all kinds, a taste which developed with increasing years. Mr Barber was an excellent player of bagatelle, billiards, cards, draughts, and chess. Before reaching 'man's estate', he left Sheffield and took up his residence in Manchester, where he succeeded in making a large amount of money by his play both at cards and at billiards. Whilst in that city he married. But it was as an owner of racehorses Mr Barber won a lasting reputation, locally at any rate. He had been, as already stated, very successful at gaming in Manchester, and he was determined to try his luck on the continent. Whilst crossing on the boat from Dover he won 'a pot of money', sufficient to enable him to purchase a racehorse which was being conveyed to France by the same boat and whose owner was abroad. The horse – we believe it was Chanticleer – won the race it was entered 'on the other shore', and augmented Mr Barber's funds. With the money he had made Mr Barber resolved to purchase more racehorses. He entered into partnership with the late Mr Joseph Saxon, and at one time in their history they were among the most successful turf men of the day. Success attended their speculations, and at one period they owned no fewer than between 20 and 30 racehorses, most of which had an excellent pedigree. With these they won some of the most important races of those early times. Chanticleer brought its owners some large amounts. In 1848 it won the Northumberland Plate, the Goodwood Stakes, and the Doncaster Cup. In time Mr Barber came to be the owner of two or three training establishments, and among his earliest apprentices were those splendid jockeys, Harry and Jemmy Grimshaw. Luke Snowden generally rode Mr Barber's cattle, and was highly successful. It would be difficult to enumerate all the horses the deceased gentleman owned, but among the most important were Fan, Ben Webster, Gawker (?), Disturbance, Brown Duchess, Clown, Commotion, Helen, Courire, Black Doctor, and Pretty Boy. He had several minor horses, all of which he named locally, as, for instance, Sheffield and Cutler. Mr Barber had stables at Newmarket and Bedford, and was the owner of considerable property at Chester, where he resided for some years. Disturbance, one of the best steeplechasers of its time, won at Liverpool, and was sold at that meeting to Captain Machell. The change of ownership came about in this way. Captain Machell, meeting Mr Barber on the course, asked, 'Can you find me a horse that will win the Grand National?' Mr Barber, in his characteristically quiet way, replied, pointing to Disturbance, who had just won, 'That horse will win next year's Grand National, if you buy him.' The captain answered, 'Well, I should only like. What price do you want?' 'Five hundred sovereigns,' said Mr Barber, and the purchase was completed there and then. Captain Machell entered Disturbance at Croyden Steeplechase and won, and in the following year the prophecy was realised, for the animal carried off the Grand National, Risworth running second. Another steeplechaser which won some of the most important events was Fan, owned by Mr Barber. There was a fence on the Liverpool course called Fan's fence, and this obstacle Fan never did get over. The first year she ran, she fell at it, and on the next two occasions she would not go over it. Anywhere else she would win, but at Liverpool never. With Ben Webster Mr Barber won the Chester Cup. This horse he took over to Ireland, and it beat all the other animals it was pitted against. In 1881 Mr Barber's Brown Duchess won the Oaks. The names of his principal horses, together with some of their most important performances, are as follows:
Courire – Lincolnshire Handicap 1863
Disturbance – Liverpool Grand National 1873
Ben Webster – Chester Cup, 1861; Great Northern Handicap, York, 1860; and Manchester Tradesman's Cup, 1860
Brown Duchess – The Oaks, 1861
Black Doctor – Manchester Tradesman's Cup, 18 52
Pretty Boy – Manchester Tradesman's Cup, 1856;Liverpool(Summer) Cup, 1856; Goodwood Stakes, 1856;The Lewes Handicap, 1856.
Chanticleer – Northumberland Plate, 1848; Goodwood Stakes, 1848; and Doncaster Cup, 1848
Clown – The Cumberland Plate, 1868
Cutler – York, Manchester and Newcastle
Gentlemanly in his dress and address, and honourable in his dealings, Mr Barber was the friend alike of peer and peasant. Among the former with whom he was on most intimate terms are his Grace the Duke of Westminster and Sir J. D. Astley. Some ten years ago Mr Barber was unsuccessful in his sporting transactions, and returned to his native town to reside. Although greatly enfeebled by illness and old age, Mr Barber continued up to the last eighteen months to attend the principal race meetings in the country. He was somewhat notable in his appearance, inasmuch as he was always attired in a 'swallowtail' coat. Amid the snows of winter or in the heat of summer he always wore this style of coat, and a tall hat, giving one the impression that he had prepared for an event wherein evening dress was required to be worn. He was a most genial gentleman, and whether on the turf or in the drawing room, he was excellent company. He was perfectly at home in social gatherings, and being gifted with a remarkably good baritone voice, he was always ready to 'favour the company' with a song. He was passionately fond of billiards and was a capital (unreadable). Although his hand was rendered unsteady by increasing years, he could still handle the cue admirably. It is only within the last year he won an important billiard handicap, in which the players, some sixteen in number, were all well accustomed to the green cloth. At cards he has won and lost hundreds of pounds in one night. No matter what his reverses were, he always remained calm, and possessed the rare quality of being a good loser. When losing large sums of money he never grew excited, and the only expression he was known to use after such losses was, 'Dear me.' To quote the words of one of his most intimate friends, Mr Barber 'was one of the most fortunate and at the same time one of the most unfortunate men' in his turf speculations. At one time he was one of the richest men in the kingdom. A fortnight ago he was in his usual health, but on the 7th he was suddenly seized with a stroke and had to be taken to his residence, where he was attended by Dr Waterhouse. He lingered on till Saturday evening when he died, never having been fully conscious the whole time. Thus has ended a remarkable career, and in the death of Mr Barber a figure familiar to all local sportsmen has passed away. He was highly respected and esteemed by all who knew him. He leaves a widow and one daughter (Mrs Hy. Biggin) to mourn their loss. The deceased gentleman was 69 years of age.'
James' burial plot is 'T1 79 Anglican' at Sheffield General Cemetery.
William Flockton
William Flockton 1804 – 1864 by Joan Flett. First published in Undertakings Jan 2002 (Issue 20)
Nether Edge Hospital, now private housing, was originally a workhouse – the third in Nether Edge – and was built as a result of the Poor Law Amendment Act of 1834. This Act stipulated that individual parishes would no longer be responsible for their sick, aged and poor residents but that a Union of parishes should take on that duty. The local Ecclesall Bierlow (an old Norse word byjar-log, meaning of the town law) Union set up at that time comprised Ecclesall, Upper and Nether Hallam (the Crookes area), Beauchief, Dore, Totley and Norton. At that time the Government issued a recommended plan for workhouses. This was a great slab sided four storey building with a ground plan in a similar form to the Legs of Man. Fortunately the local Guardians of the Poor, responsible for the running of the Workhouse and collecting the Poor Law Rate to maintain it, rejected this plan, and , in 1839, chose William Flockton.
William Flockton was born in 1804, the son of Thomas Flockton, a joiner, carpenter and builder of Rockingham Street. William trained with his father and his obituary records how, as a boy, he scampered on the wall plate of Carver Street Chapel during the roofing of that building. He also used to boast of the excellence of the floor of the saloon of the Music Hall which he had laid. By 1841 he was calling himself Architect, Joiner and Builder and had an address in Devonshire Street. He later moved to Victoria Buildings, 27 Fargate, which he had designed and built himself. Marks and Spencer is now on that site.
Over the years Flockton was responsible for a number of churches, including the design and building of the Anglican chapel (also Grade II) in the General Cemetery, and the demolition and building of Bakewell Church. Today, perhaps, we are most familiar with King Edward VII School (pictured above) and The Mount just across the road from the school. He kept the most meticulous records of all his work and we not only know all the details of the actual building of Ecclesall Bierlow Union Workhouse, but all the expenses of the items such as the locks, keys, doormats etc, including the two blue water closets put in for the Guardians. These new fangled items seem not to have been totally reliable – his notebooks record " Man ½ a day at the Water Closets – 2s 6d.", "Man ½ day forcing the Water pipes – 2s 6d." The Workhouse was built to house five hundred people. The work took from 1841 to 1844 and cost £15,000 including the cost of several roads skirting the site. Flockton was paid £1,500.
William Flockton died in 1864 and is buried in plot M3 in the Anglican section. The chest tomb is in an area which is currently fenced off.
The Shore Sisters
Buried in HH 115 in the non-conformist section are three of the daughters of Samuel Shore of Norton. Samuel came from a Sheffield family of bankers and tradesmen and married Urith Offley, who inherited Norton Hall. The family was wealthy and moved in the highest circles – Lady Urith Shore was painted by George Romney, the most celebrated portrait artist of his day.
Samuel and Urith had six daughters and two sons. There is a famous story often told in Sheffield history books of an incident when King George III was taking a walk on Weymouth beach. He saw some children playing with their nurse and asked who the children were. He was told that they were Mr Shore's children, of Norton, Sheffield. 'Sheffield! Sheffield! Damn bad place, Sheffield' the King is reported to have remarked! These children were also related to Florence Nightingale – her father was a Shore who changed his name to Nightingale to benefit from an inheritance – and the cousins used to play together when they were young.
Three of the daughters, Urith Lydia, Ameila Theophila and Maria Theodosia remained unmarried and lived together at Meersbrook. In the 1851 census Urith is described as a 'Landed proprietor'. The three women had five servants to look after them.
When Samuel died he was buried in the graveyard of Norton Church, in spite of being a prominent non-conformist. However when his daughter Maria Amelia died in 1855 the vicar of Norton was away and the Curate refused to buy her in the churchyard as she was not of the Anglican faith. Urith bought a grave at the Sheffield General Cemetery and Maria was laid to rest there. The idea of a Shore being shut out of Norton Church created much angry feeling and there were letters to the newspaper, condemning the 'churlish priest'.
This is from the Sheffield Independent of 29th September 1855
'The old Sheffield family of Shore, long known to entertain Unitarian sentiments, has been settled in the parish of Norton for generations. Its past members, and in an eminent degree its present members, have been the general benefactors of the neighbourhood. For more than a century Norton Church has been the family burial place. The present members of the family have been on the most friendly and neighbourly terms with the Vicar of Norton, the Rev. H. H. Pearson, as well as with his father, the late Vicar, whom he succeeded. The death of Miss Maria Theodosia Shore, of Meersbrook, youngest daughter of the late Samuel Shore, Esq., was announced in our last, and the family proposed that her interment should take place, according to their custom, at Norton Church. But strange to say, the Rev. Mr. Sale, the curate of the parish, gave them to understand that he should refuse to read the funeral service over the deceased, because she was a Unitarian. The Vicar was from home at the time, but it is understood that he adopted, and sanctioned by letter, the conduct of his curate. The result has been that Miss M. T. Shore is interred at the Sheffield Cemetery. Thus do the Shores, from no change in themselves, but from a new reading of church law, or at least from a new practice, find that they are deprived of their ancient burying place; and clergymen, with whom they have been on most friendly terms in life, pronounce them in death to be unfit for Christian burial.'
Urith and Amelia were also buried in SGC. The only name on the Memorial Inscription is that of Maria's but her sisters obviously decided that that they should all be buried together.
John & Ann
This rather lovely photograph, taken by Laurie Manton, shows a broken tree – a symbol often used on gravestones to indicate a life cut short.
It is the grave of John Fowler and his wife Ann. John was born in 1809 and was a steel refiner. Just before he died, in 1859, he was living on Spital Hill and was the manager of a steel works. His son, William, was an apprentice to a manufacturer of files.
The Memorial Inscription tells us that the monument was erected by his friends 'to record his many virtues and their regard for his public and private character'. A man held in great esteem.
Thank you to The Graveyard Detective via Facebook for permission to use this great pic.
I Am off My Head
An edition of the Sheffield Telegraph in 1914 tells the sad story of a young man – a silversmith from London – who killed himself in Endcliffe Park. The young man, who was lodging on Sharrow Vale Road, was known to be an athlete and 'of a bright disposition'. He had, however, complained of headaches and had said 'these pains will drive me mad'.
His body was found close by the wall which divides the park from the Hallamshire tennis club. His throat was cut.
In his pocket was found a photograph of his sister and another of a friend. On the back of one of these was written 'I am off my head'.
The man was buried in the Cemetery on the 12th March 1914.
The Man in The Privy
In January 1883 a little girl, going out to use the privy, made a horrible discovery. A man was slumped inside the closet, apparently unconscious. She called her father, telling him that there was a drunken man in the privy. When the father went to investigate he found that the man, who was in a sitting position, was dead. His clothes were in disarray and his pockets had been turned out.
The man was later identified as George Ellis, who had gone out the previous evening in good humour, with money in his pocket. How he came to be found several miles from home, penniless and deceased remains a mystery. There was only one mark on his body – a bruise behind the right ear. An inquest was held at the local inn, as was common. The coroner took evidence from the man's son and daughter and from a doctor. The doctor concluded that the man had died from natural causes as the man had a heart problem and bronchitis and there was no evidence of violence. The mark behind his ear could have occurred after death. The family of the child who found the man were quizzed about the missing items. They denied robbing the dead man. It was suggested that he could have given his watch, chain and money away. The jury returned an open verdict.