MURDER AT THE GRANGE by Robb Johnson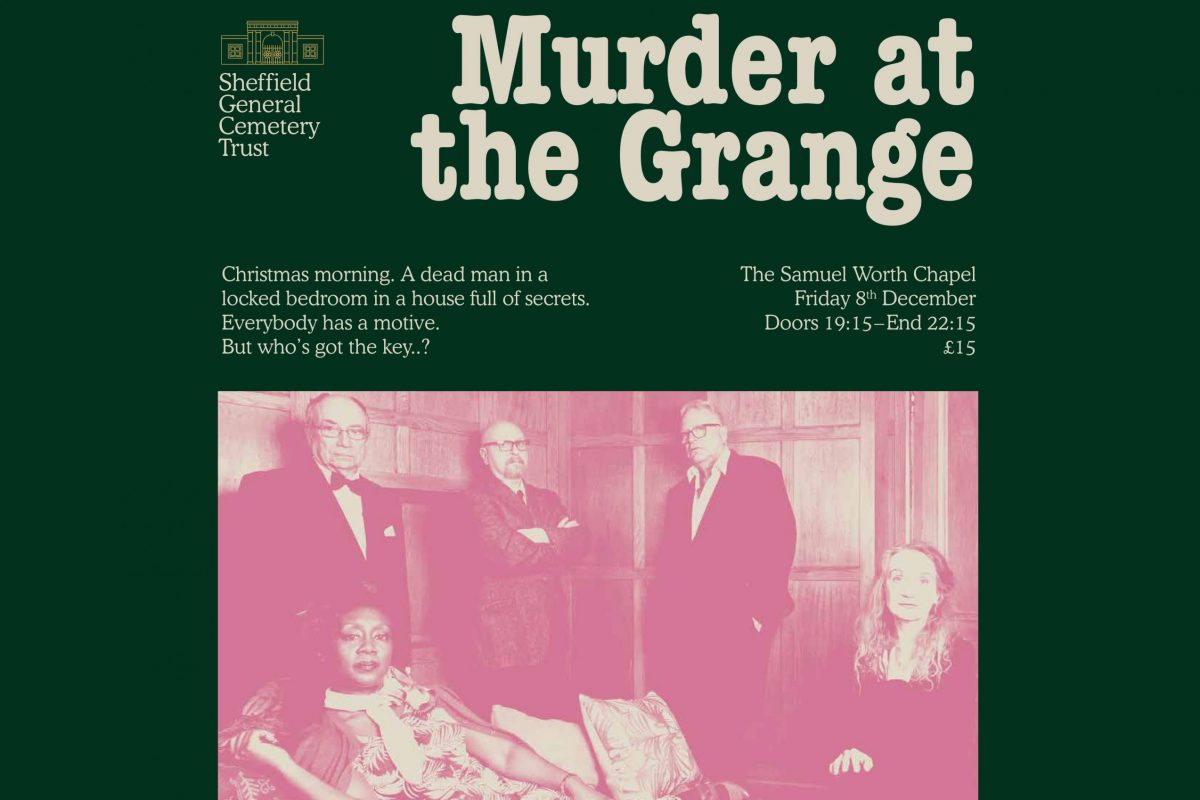 Event information
Date: Fri, 8 December 2023
Time: Doors 7:30pm Close 11:30pm
Cost: £15.00
Type: Performance
Sheffield General Cemetery Trust are excited to welcome Murder in the Grange featuring Robb Johnson and The Irregulars
MURDER AT THE GRANGE by Robb Johnson
Christmas morning.  A dead man in a locked bedroom
in a house full of secrets. Everybody has a motive.
But who's got the key?
Murder At The Grange is a Christmas murder mystery in spoken word & song, created by acclaimed songwriter Robb Johnson & performed by Robb & The Xmas Irregulars.
Presented in the style of a BBC radio drama, there's a narrator, cast members reading as various characters in the narrative, appropriately absurd sound effects – & added original festive songs that comment on the action & reference traditional seasonal conventions (Father Christmas, mistletoe, sprouts etc).
The show consists of two halves, just under an hour each half, there is a fairly equal balance between suspense & comedy. It contains adult themes in places & there is some language, so it's probably not for the under-twelves.
This year's cast is
Sian Allen – trumpet, vocals,
John Forrester – double bass, vocals
Robb Johnson – vocals, guitar
Fae Simon – vocals
Roger Stevens – narrator
Robb Johnson-Brief biography:
Robb's widely recognised as one of the UK's finest songwriters.  "An English original", (Robin Denselow, the Guardian) … "one of our best singer-songwriters ever" (Mike Harding)…  "one of this country's most important songwriters (no argument!)" (fROOTS). His work includes two highly acclaimed song suites, Gentle Men, & Ordinary Giants,  -a "masterpiece" (fROOTS), "monumental" (FATEA). Last year Murder at the Grangepremiered to enthusiastic, sold-out audiences at The Ropetackle in Shoreham & Chats Palace in Hackney – "a cracker of a show" was Folk Radio's opinion.
The Christmas Irregulars
Sian Allen – actor-musician, resident singer at Walthamstow Folk Club
John Forrester – singer & songwriter, bassist in various bands
Fae Simon – studied opera, hip-hop, soul & jazz recording artiste
Roger Stevens – award-winning children's poet & novelist
Proceeds from this fundraising event go to SGCT to help us with our work looking after Sheffield General Cemetery and our 2 Grade II* listed buildings and to inform and educate about the history of this unique green space'.
Saturday 8th December 8.00pm – 11.30pm
£15.00   All tickets sold online via TICKET SOURCE, no tickets on the door.
Email [email protected] with any questions about this night.
Bags will be checked on entry.
This is a SGCT volunteer lead event. All proceeds go towards the work of Sheffield General Cemetery Trust.
Thank you for your support.