Lines & Spaces – Jazz at The Lescar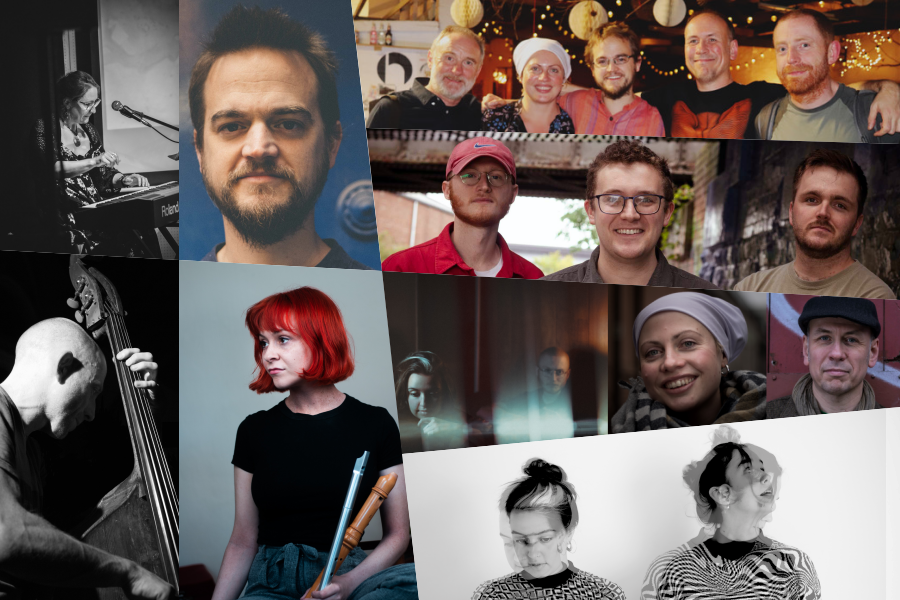 Event information
Date: Sun, 15 October 2023
Time: Doors 12.30pm. Performance 1pm - 10.30pm
Cost: £10.00 - £20.00 + booking fee
Type: Performance
Lines & Spaces 15th October 2023

An afternoon and evening of music brought to you by the Jazz at The Lescar team in the beautiful and reverberant space of the Samuel Worth Chapel, and centred on creative musicians with strong links to Sheffield.
Twelve musicians, six bands and a vibrant and kaleidoscopic mix of sounds, jazz, minimalism, improvised music, electronics, loops, and mysterious vocals.
Afternoon session (Doors 1pm – 5.15pm)
baleine
A meeting of two duos, balo (Manon McCoy – harp/electronics, and Will Shaw – drums) and whale detective (Hannah Brady – clarinet/sax, and Jez Matthews – piano/electronics) – multi-layered ambient improvised music, atmospheric drones and powerful emotive melodies. baleine have just recorded their second EP of music, after a sellout gig at The Lescar, and following performances by balo at festivals in Lancaster and Newcastle. They'll be joined for this gig by a wonderful guest vocalist, Cesca Grace.
Juliana Day
An innovative and energising presence on the Sheffield music scene, Juliana Day (voice/recorder/electronics) loops and mixes recorder and voice with natural sounds to create fascinating new textures and overlapping soundscapes. Absorbing, reflective and fascinating new music.
miners three
Three of the most respected jazz musicians to have emerged from the Sheffield music scene return for a debut performance of this brand new trio. Following recent headline performances at Lancaster Jazz festival, we are  delighted to present Laura Cole (piano), Seth Bennett (double bass), and Johnny Hunter (drums). Three intense and communicative performers; a deep and interactive musical conversation is guaranteed.
Evening set (7pm – 10.30pm)
Assembly Trio
Emerging from Sheffield's thriving jazz and improvised music scene, a dynamic jazz trio with a captivating and ever-evolving sound. Rooted in contemporary jazz, their music is steeped in interaction with vibrant originals, grooves, unexpected twists and really memorable tunes, featuring Alex Bishop (guitar), Ben Evans (bass), and Will Shaw (drums). A jazz guitar trio going from strength to strength since releasing their debut album 'Bloom' in 2022, and with a distinctive sound of their own. They're about to release a new EP. Come down and hear them at Lines & Spaces!
Foxhat
A reunion of a band born out of the Sheffield jazz scene, featuring a much respected figure from the Sheffield jazz scene, now based in London, Pete Lyons (tenor sax), with Hannah Brady (alto sax), plus two current stars of the wider UK jazz and improvised music scenes, Manchester-based Johnny Hunter (drums) and Scotland-based Seth Bennett (bass), and with Jez Matthews on piano. Energising free jazz meets minimalism, cinematic themes and improvised music.
Manon McCoy + Alice Brookes
A reflective and peaceful end to the evening, and brand new music from a duo mixing ambient electronics and voice. Explorative, mysterious and evocative music, and possibly some special guest performers too.
Tickets:
Full day: £20 / £12 concessions
Afternoon only: £15 / £10 concessions
Evening only: £15 / £10 concessions
Discounted rates include students and under-18s.
Under-18s tickets only available for afternoon session.
Email ma[email protected] with any questions about this night.
Bags will be checked on entry.
Tickets for this event are non-refundable. However, If for any reason the event is cancelled by SGCT, we will refund your ticket. If you have bought a ticket but are unable to attend the event, please contact [email protected] so we can try to reallocate it.
This is a SGCT volunteer led event. All proceeds go towards the work of Sheffield General Cemetery Trust.
Thank you for your support.